Hey guys! This is my first ever thread start thing! I'm excited!!! lol 
 Ok so anyway I was browsing the internet finding all things Naruto related when I came upon this picture: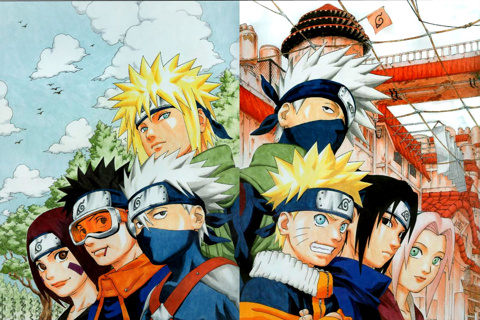 And it got me thinking...Many people compare young Kakashi to Sasuke but I wonder...what if Kakashi and Naruto are more similar to each other? I was thinking about the fact that both of them are the strongest of their group, both of them were looked down upon by the villagers and they both had that one best friend they could rely on. I'm not sure maybe I'm overanalyzing or it's just in my head lool. But what do you think? I'd love to hear your thoughts  
P.S I'm sorry if there is already a thread on this! And if it's in the wrong place!
Thanks!

Shinobi






Posts

: 18


Gender

:



It depends how you interpret "strongest". I think there are some similarities or parallels to be found in all characters. Naruto and Obito are both orphans and both share (shared in Obito's case) the dream to become one day Hokage.

Sasuke, like Kakashi, was consider to be the genius of the team, whereas Naruto and Obito are more the hard worker types.
_________________

Irielo






Posts

: 3348


Gender

:


Location

: Back to normal



Ohh that's a good point...thanks a lot for the response! :) I understand totally that there are parallels between many characters. I read somewhere that Kishimoto had made all the teams similarly so that makes sense. Thanks again!

Shinobi






Posts

: 18


Gender

:



I've always thought of it as:

Rin-Sakura...Kakashi-Sasuke...Obito-Naruto

But it's interesting to look at it in another way like you are, that pic sure got me curious on why he drew it like that, cause character placement can be of importance depending I guess. And the only reason I know of the other way to be more like it because, Obito when talking to Naruto in the war has had doubts on Narutos goal, which Obito himself couldn't fulfill because of his choices and manipulating from Madara (and now BLK Zetsu lol) and Sasuke had the same attitude as Kakashi, where you look at Kakashi now as an adult and he's changed and I believe Sasuke will do the same. As for Rin and Sakura. The only similarly thing to me for them was her healing ability? Could she or I think she could help wounds, but her crush on Kakashi was less fangirly then Sakura, but the difference is Rin showed careness to both her allies, but shown her obvious affection for Kakashi, yet showing goodness to Obito too, which had Obito fall for her my guess.

But cool analysis, I think where you were going with it is that Obito and Kakashi could be the nutshell for Sasuke and Naruto cause of the pic.

ThisIsMyNinjaWay






Posts

: 173


Gender

:


Location

: Louisiana



Yes I see what you mean. I mean personality wise Obito and Naruto and Sasuke and Kakashi are definitely very similar. The character placement like you said had got me thinking and I started picking out similarities between Kakashi and Naruto lool. Thank you very much for your response!

Shinobi






Posts

: 18


Gender

:



Oh! Just thought of something. I think the placement with Obito and Sasuke was because they are both in the uchiha clan. And speaking of it, Sasuke went "evil" (Anti-Hero) cause of Itachi killing his clan (the one who he trusted the most betrayed him), where Obitos case was that he entrusted Kakashi to protect Rin at all costs, and watched as Kakashi chidori'd through Rins heart (felt betrayed as well). The reason I say this, is because Tobirama brought up the biolgy link between the Uchihas that they are capable of love Thats so great then any other clan that when something traumatic happens it makes them go insane and it explains it!

Lol got off the topic a littleeeeeee bit but just thought it could be placed like that cause of the uchiha thing, and how Obito and Sasuke took the wrong road where Kakashi and Naruto have become better grown ppl, Naruto more in particular where Kakashi has praised him bout....
Last edited by ThisIsMyNinjaWay on Sat Jun 21, 2014 9:05 pm; edited 1 time in total

ThisIsMyNinjaWay






Posts

: 173


Gender

:


Location

: Louisiana



OH! Yeah that makes a lot of sense! Good job! I didn't even think of that haha! Thanks!

Shinobi






Posts

: 18


Gender

:



That was a good explanation , to be honest when i see this photo my first impression is they are all have a similarity in fact i am building now a theme for my fundraising event for
http://www.sponssiboxi.fi/
and it look's like i found a nice idea which many kinds will love it.

white011






Posts

: 19




---
Permissions in this forum:
You
cannot
reply to topics in this forum